The past 2 weeks have been pretty fun. Well, mainly last week and this past weekend were really fun. Madelynn and I haven't done much of anything this week.
The pictures in this post had to be done through photobucket because Blogger hates me now or something and will
NEVE
R
upload my pictures.
Last week we went over to Aunt Amy's house 3 TIMES! It was fun. One of the days we spent ALL DAY there. The kids really seemed to enjoy it and Madelynn slept really well that night so she must have enjoyed herself. One of the days we went swimmin. I don't think Madelynn liked that to much. I didn't get any pictures of her in the pool because she's not really sittin up that well yet so I didn't let go of her to get any. She didn't splash around in the water or anything either.

Silas didn't get the memo that you're NOT supposed to look at the camera.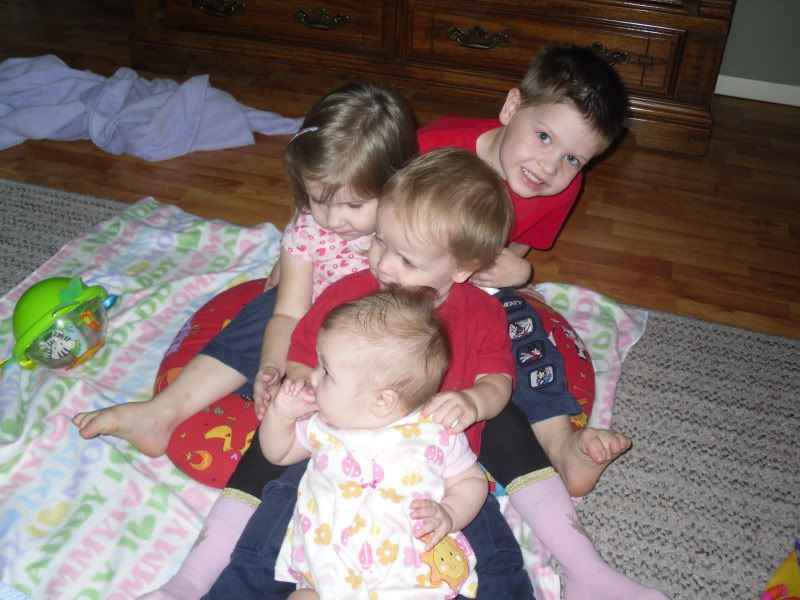 So close to a fabulous picture....
Tryin to get Zeke's ball all decked out in her swimmin gear.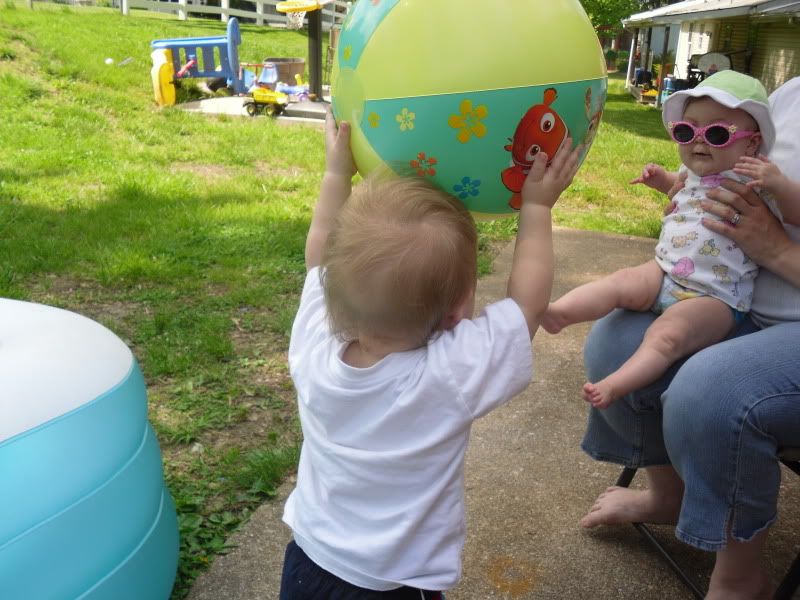 He
almost
tried to give it to her.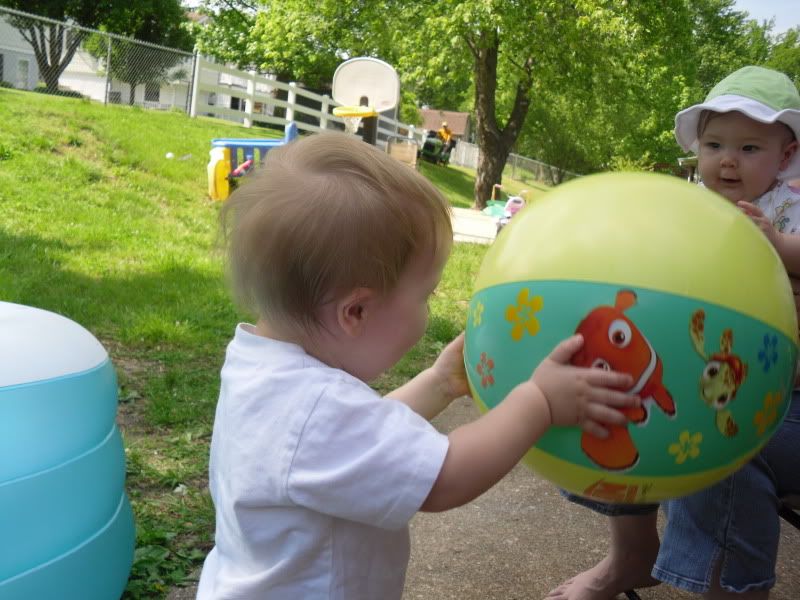 This weekend Daddy was home for 4 DAYS which was really awesome. We went to the park on Saturday(at least I think it was Saturday). Madelynn got to swing and go down the slide, with Daddy holding on to her of course. Sunday we went to church and then spent family time together playing and napping. Monday we went to the mall with friends that we haven't seen for awhile. It was definatly a full weekend.
Daddy pushin her in the swing.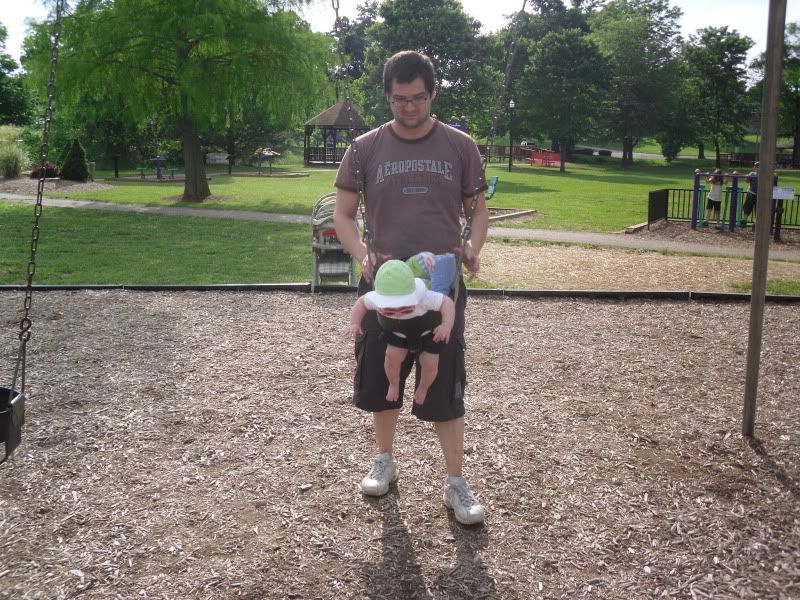 Mommy pushing.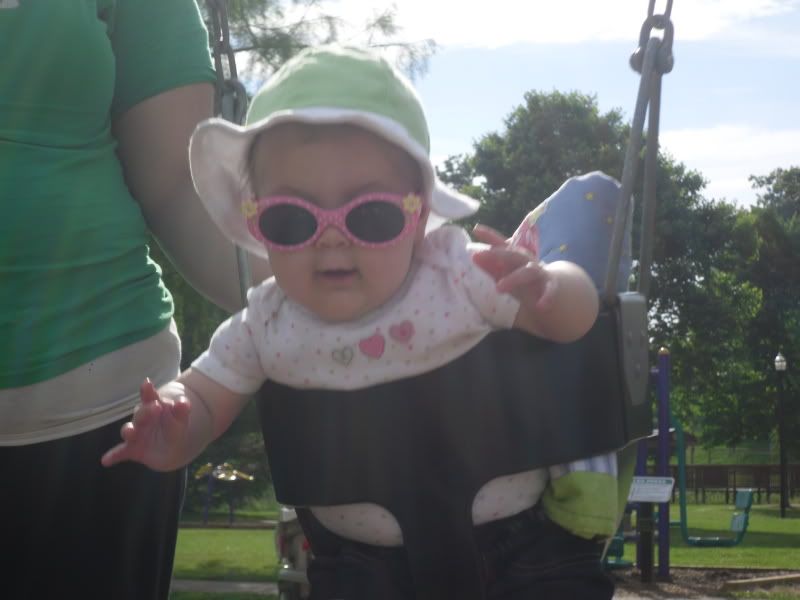 Trying to eat the camera while swinging. My little multi-tasker...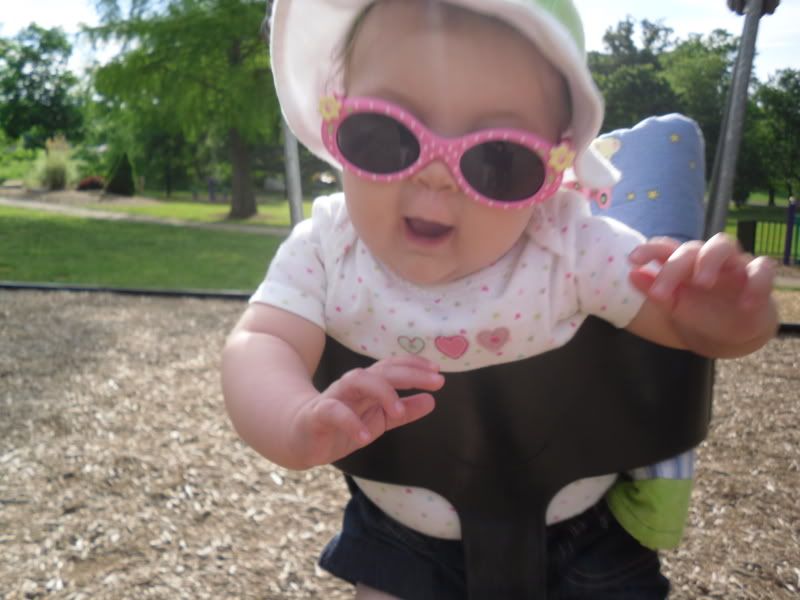 Sittin on the slide. Don't worry. We were very close by.
Trying to get away from Daddy's kisses.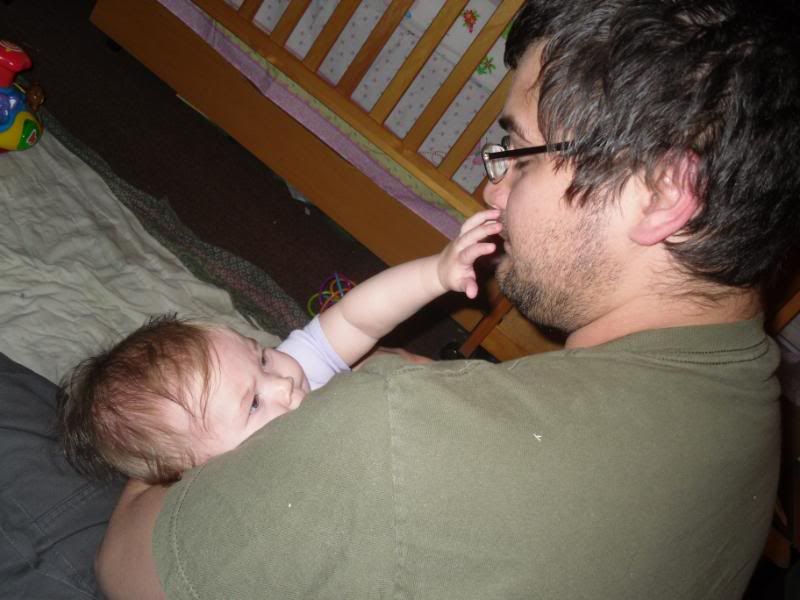 THEY'RE SO YUCKY!!!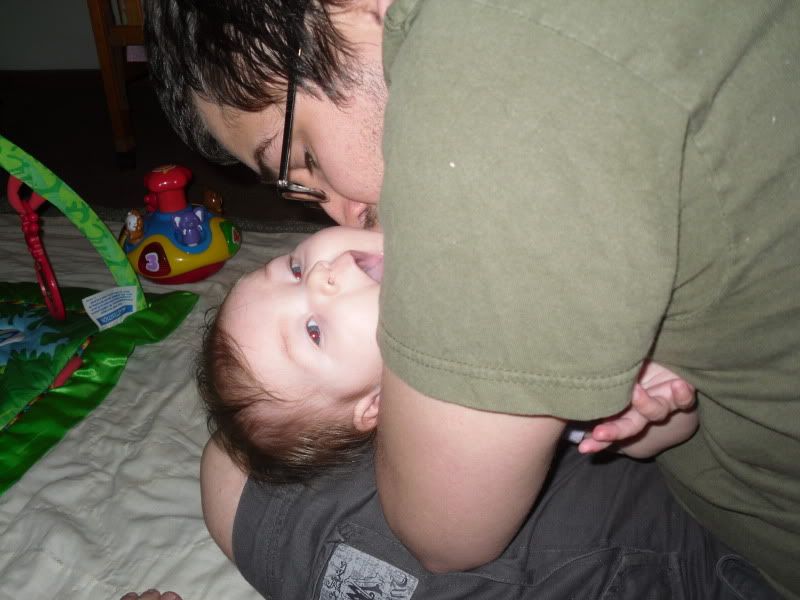 Then after Monday we've pretty much stayed home. Haven't gone anywhere except to Walmart. Do you remember when Walmart used to have the "-" in the middle of it. It used to be Wal-Mart. When did that change?
Today though we are going shopping with Grandpa Steven and Uncle Elliot. Should be really fun, hopefully. She doesn't have Bunny today. Bunny took a bath last night and still isn't dry. So we've got Dolly. We'll see how that works out. I don't know if she's old enough to figure out that there's a difference but it seems like she knows. Cause she's in her swing right now for a short nap before we leave and if she had Bunny she would have been asleep like 20min ago. But instead she has Dolly and still isn't asleep. So we'll see.
update:

I started wrting this blog post this morning and didn't get to publish it.  We went shopping with Grandpa not Uncle Elliot. Mainly because Uncle Elliot is a bum that never wants to wake up in the morning.  Seriously, I don't know how that kid makes it to work.

  It wasn't a very eventful day.  Grandpa bought Madelynn yet another outfit. Madelynn is ok without Bunny.  But it did take her longer to go to sleep in the car and she fussed some before falling asleep.  Which doesn't usually happen anymore.  So now we know she's definatly attatched to Bunny.  When she had it when we went to the store after Daddy came home she went right to sleep in the car.  No fussin or anything. So the moral of the story is, we can NEVER lose Bunny.  And when I wash it I should probably do that on laundry day so it goes in the dryer for quick drying.
Um. Mom, where's my Bunny?
Well dear, here's your Bunny. Hanging in the bathroom drying.
Well I guess that's ok Mom but this Dolly tastes funny.